Contact Us At: 704-391-8505 Fax: 704-391-8504
Email: gflack@juno.com

Bi-weekly

meetings of the Kushite Institute are conducted in conjunction with our educational forums on the second and fourth Thursdays at 7 PM at the Metrolina Minority
Contractors Association, 418 West Trade Street, Phone 704 391 8505 --free admission--

Membership: $25 annually. Monthly Board Meetings Held At House Of Africa.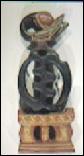 Generally, our Minister of Liberation/CEO Dr. Foluke leads these forums, preceded by a period of non-sectarian spiritual meditation, with a unique focus on wholistic development and the African-American experience.

"When spider webs unite, they can tie up a lion"
--Kushite Proverb-
________
Know your heritage, .... Know your potential"
_________

"Looking Back to Move Forward"

_________

"From Ego to We go"

_________

"The balancing of the land lies in Maat--truth, justice and righteousness"


--The Husia: Sacred Wisdom of ancient Egypt-___________